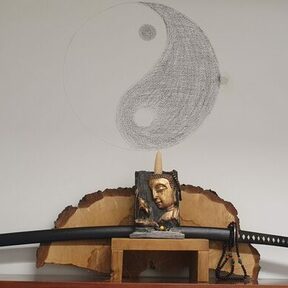 Our studio has many practical and nice equipment suitable for different martial arts as well as other movement and wellness activities. The size of the studio is 65 square meters, 40 of which are covered with a 4 cm thick high-quality mat, one dressing room, one bathroom, and a fully equipped small kitchen.
We gladly rent you our training studio. If you wonder why to start renting our studio and cooperating with us, here are some reasons. Not only we will offer your cozy and nice premises but, if you want, we will also advertise to you, your services and timetable on our website page and everywhere we are involved.
AZA is a cozy, quiet, and relaxing place that makes it excellent also for work meetings or friends and family events. The housing cooperative has a playground and a barbecue place that can be used for free when asked in advance. Please contact us if you want to rent our studio.
We are continuously developing AZA and making it more visible and interesting for potential customers, instructors, and/or practitioners. So don't miss this opportunity! The below-presented prices include VAT.
More info at www.artzenter.fi or info@artzenter.fi
Ei seurattuja käyttäjiä